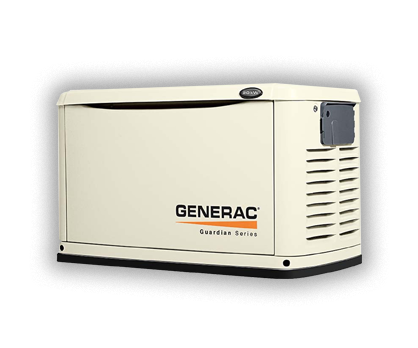 "Prompt and friendly service by office and service technicians."
- Nichole McClish
GENERATORS.
The super storms Irene and Sandy brought to our attention how incapable we are of maintaining our everyday lives when we have a power outage. A home back up generator is a means of supplying power to your home and awards you a level of comfort and safety.
VIEW OUR FINANCING OPTIONS.
THE EXPERIANCE.
Customers are sometimes confused about what a standby generator can actually power. The answer is that you can power a portion of the home, or the entire house. We encourage our customers to make a list of all electrical devices they feel are necessary for them to remain functional during the outage. That list will determine the kilowatts necessary to power those needs.
To have the confidence your generator will perform when needed, it automatically starts up once a week for about 11 minutes to charge the battery and perform a self diagnostic check. Its WiFi capability will alert you of the self diagnosis results if a problem is detected.
GENERATOR SPECS / INSTALL
One day install for most applications
Electric/Gas permits filed by our office
Final inspection guaranteed
Natural Gas / Propane
Jaine Scott
OUR CLIENT REVIEWS.
"My wife and I compared 6 different A/C specialists...and Indoor Air truly is the best around."
- Barry Korbman
OTHER REVIEWS
- Beverly Marchetti
"nstallation was seamless – everyone was so knowledgeable! So far my AC is awesome – great coming home to a comfortable house. "
- Nichole McClish
"Prompt and friendly service by office and service technicians. They keep your establishment clean and offer a high quality product."
- Sivaram Chelluri
"Trust, Efficiency and completeness of all the work. We are very delighted with Indoor Air Technologies support, delivery and installation of Trane Airconditioning System."
ARE WE NEAR YOU?
Give us a call to see if we cover your area.
- Robbinsville
- Hamilton
- Ewing
- Lawrenceville
- Allentown
- East Winsor
- West Winsor
- Princeton
- Pennington
- Yardley / Newtown
- Bordentown
- Additional Locations
click here to schedule an appointment!