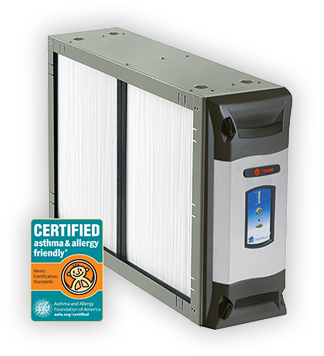 "Great company....Great people!!! Highly recommend!"
- Dawn Laico Krall
FILTRATION SYSTENS.
Indoor Air Technologies, an experienced filtration systems specialist in NJ and Pa., is proud to be an exclusive distributor of Clarcor/ATI filters. ATI meets the rigorous standards for the National Emissions Standards for Hazardous Air Pollutants (NESHAP) established by the E.P.A.
VIEW OUR FINANCING OPTIONS.
What You Can't See Can Hurt You
55 to 60 million people suffer from respiratory ailments.
50% of respiratory illnesses are aggravated by indoor air pollutants.
Fiberglass filters purchased from home stores protect the equipment, not your family.
Lets discuss your filtration system needs for your NJ home
Our product mounts to your existing filtration system.
Removes up to 99.98% of allergens from the filtered air.
Traps particles down to 0.3 microns in size.
LED cleaning indicators easily visible from the outside.
Quiet operation.
Trane Clean Effects was designed to fall well below the 50 parts per billion (ppb) FDA voluntary emission limit for medical devices.
10 year limited warranty on the electronics.
5 year limited warranty on filter.
Jaine Scott
OUR CLIENT REVIEWS.
"My wife and I compared 6 different A/C specialists...and Indoor Air truly is the best around."
- Barry Korbman
OTHER REVIEWS
- Beverly Marchetti
"nstallation was seamless – everyone was so knowledgeable! So far my AC is awesome – great coming home to a comfortable house. "
- Nichole McClish
"Prompt and friendly service by office and service technicians. They keep your establishment clean and offer a high quality product."
- Sivaram Chelluri
"Trust, Efficiency and completeness of all the work. We are very delighted with Indoor Air Technologies support, delivery and installation of Trane Airconditioning System."
ARE WE NEAR YOU?
Give us a call to see if we cover your area.
- Robbinsville
- Hamilton
- Ewing
- Lawrenceville
- Allentown
- East Winsor
- West Winsor
- Princeton
- Pennington
- Yardley / Newtown
- Bordentown
- Additional Locations
click here to schedule an appointment!