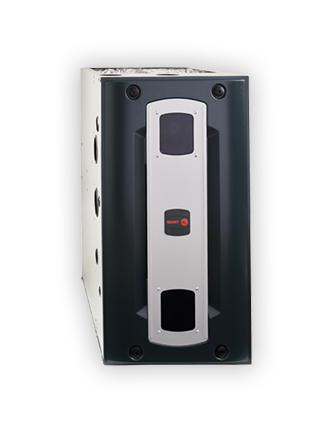 "All positive results from working with Indoor Air. Thanks!"
- Jim O' Rourke
CENTRAL HEATINGSYSTEMS.
For over 100 years, Trane central heating systems has forged the way for uncompromising quality, innovative technology and reliability in the HVAC industry. Trane is also recognized as the industry leader, the recipient of multiple industry awards and the recognition of being named the "MOST TRUSTED" HVAC system on numerous occasions by Lifestory Research.
VIEW OUR FINANCING OPTIONS.
THE CENTRAL HEATING EXPERIANCE.
A gas forced-air central heating system goes into action when the thermostat tells it that the room temperature has dropped below a preset comfort level. The thermostat sends a low-voltage electric signal to a relay in the furnace, which signals a valve to open and deliver natural gas to the burners and for the blower to turn on. Combustion gases are generated by the burners in your furnace and passed over a heat exchanger. Air from your home blows across the heat exchanger to be warmed. It is then blown through a system of ducts to distribute around your home.
Indoor Air Technologies offers a wide ranging line of Trane furnaces with AFUE (annual fuel utilization efficiency) from 80-97%. Our technicians are uniquely qualified to install the right gas furnace for your home or business, one that performs flawlessly and delivers perfectly conditioned, comfortable air day after day, all year long. Trane dealers are among the most knowledgeable at installing and servicing high performance, precision-engineered heating systems. We're committed to total satisfaction.
TRANE MODELS: XV80, XC 80, XV95, XC95M
Variable speed blower motors with Comfort-R Technology
Two stage and modulating gas valves
Better comfort & humidity control
Quieter startups & shutdowns
Efficient burners; maximum heat with less fuel
Better distribution of warm air
Aluminized heat exchanger for longer life
Industry Leading Warranties
Enjoy all the same benefits as above with 95% AFUE with models
XR95, S9V2, XC95, X9X2, S9X1, S8X1, S8X2
Limited-Time Deals
There is no better time than the present for clean air. Contact us today while these specials are available.
0% APR Financing Up to 72 Months
Special Rate of 0% APR with 72 equal monthly payments for those with qualifying credit. Not all systems are eligible. Inquire for more details.
Special Rebates for the Purchase of Qualifying Units
Special rebates apply to the purchase of qualifying units. Our team is waiting to help your new installation project qualify for our seasonal rebates. We'll help make sure your costs are covered!
ARE WE NEAR YOU?
Give us a call to see if we cover your area.
- Robbinsville
- Hamilton
- Ewing
- Lawrenceville
- Allentown
- East Winsor
- West Winsor
- Princeton
- Pennington
- Yardley / Newtown
- Bordentown
- Additional Locations
click here to schedule an appointment!