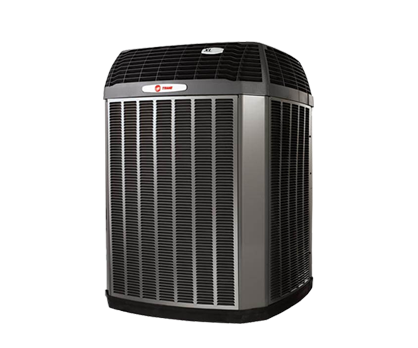 "Great service!! I will recommend to anyone."
- Adriana S.
AIR CONDITIONING INSTALL & REPAIR.
For over 100 years, Trane has forged the way for uncompromising quality, innovative technology and reliability in the HVAC industry. Trane is also recognized as the industry leader, the recipient of multiple industry awards and the recognition of being named the "MOST TRUSTED" HVAC system on numerous occasions by Lifestory Research
VIEW OUR FINANCING OPTIONS.
What Is Air Conditioning?
The Air Conditioning system is designed to dehumidify (remove humidity) from your home. That is the primary function of the system. The by-product of de-humidification is COOLING. The most common residential system is called a SPLIT SYSTEM, meaning you have an outdoor Condensing unit which is connected to an indoor evaporator coil.
How Air Conditioning Works:
A blower system in your furnace draws the inside air across the evaporator coil, which is cold. When the warm house air passes over the cold evaporator coil, two things happen: humidity is being removed from the house and cool air is replacing the warmer house air.
Should You Repair or Replace?
Most systems have a 10 year parts and compressor warranty. With system life expectancy of approximately 18 -20 years, most systems should be repaired if there is a failure during the 10 year. warranty period, unless the failure is catastrophic.
After the 10 yr period, consideration based on the severity of the failure, should be to replace the system. The changes and efficiency improvements have advanced dramatically over the past 10 years. This should be the thought process when faced with repair or replace!
*product specifications*
TRANE PRODUCT LINE
MODEL XR13 to XR16 Seer 1.5 to 5 ton single stage air conditioner or heat pump – 10 yr parts, compressor warranty
Model XR17 & XL18 Seer two stage 2 – 5 Ton air conditioner or heat pump – 10-12 yr parts, compressor warranty
Model XV18 & XV20 Seer variable speed, inverter technology, 2 – 5 ton air conditioner or heat pump – 10-12 yr. parts, compressor warranty
Jaine Scott
OUR CLIENT REVIEWS.
"My wife and I compared 6 different A/C specialists...and Indoor Air truly is the best around."
- Barry Korbman
OTHER REVIEWS
- Beverly Marchetti
"nstallation was seamless – everyone was so knowledgeable! So far my AC is awesome – great coming home to a comfortable house. "
- Nichole McClish
"Prompt and friendly service by office and service technicians. They keep your establishment clean and offer a high quality product."
- Sivaram Chelluri
"Trust, Efficiency and completeness of all the work. We are very delighted with Indoor Air Technologies support, delivery and installation of Trane Airconditioning System."
ARE WE NEAR YOU?
Give us a call to see if we cover your area.
- Robbinsville
- Hamilton
- Ewing
- Lawrenceville
- Allentown
- East Winsor
- West Winsor
- Princeton
- Pennington
- Yardley / Newtown
- Bordentown
- Additional Locations
click here to schedule an appointment!